In my quest for a lunch recipe that is easy to make and easy to assemble and that fits into the Hubby's Bento Box and that's delicious AND vegan I stumbled upon Jamie's recipe for The best vegan burger. And let me tell you my dearest dearest readers that if a hyperbolic title was ever true it's this time!
"Packed with flavour, these vegan corn burgers are healthy and seriously satisfying. "
---
Ingredients
1 x 400 g tin of chickpeas
1 x 340 g tin of sweetcorn
½ a bunch of fresh coriander (I used dried, and it was just fine 🙂
½ teaspoon paprika
½ teaspoon ground coriander
½ teaspoon ground cumin
½ teaspoon ground turmeric (not in the original recipe, but I'm currently having a love-affair with turmeric, so I'm putting it in everything!)
zest from 1 lemon
3 heaped tablespoons whole wheat flour , plus extra for dusting
rapeseed oil (again, I used olive oil and it was lick-your-fingers delicious)
1 small round lettuce
2 large ripe tomatoes
2 ripe avocados
tomato sauce
4 wholemeal burger buns
---
Method
Stars by draining the chickpeas and sweetcorn, and add them to the bowl of your food processor.
Add the spices, salt, lemon zest and flour and pulse until combined, BUT stop before it turns into a paste. Remember, you still need a little texture.
Divide the mixture into 4 equal-sized patties about 2cm thick on a flour-dusted surface, and then place them in a fridge for about 30 minutes.
Heat a little bit of oil in a non-stick frying pan and cook the patties over medium heat on each side until golden. I'm considering placing them in the oven next time, and I"ll let you know how that turns out.
Assemble and enjoy! Bread bun + tomato sauce + veggie patty + tomato slices + avocado + bread bum.
---
Packing tip
Pack the bread separately to keep it fresh, and place the buns on a bed of spinach leaves to keep them fresh.
---
Bon appetit!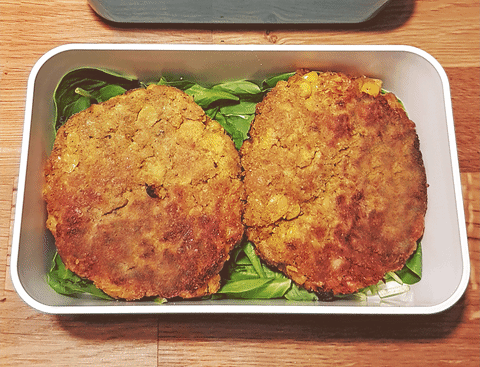 Live beautifully!